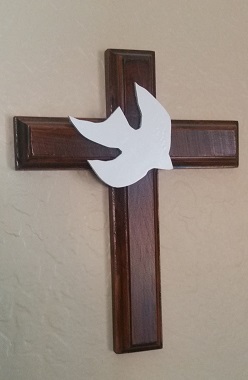 Our very own Dave Torgersen, loves to invite other woodworkers to join him in this fun and creative activity. Woodworking is a hobby of Dave's, not only with power tools, but also by hand-carving. Dave has been involved in making the crosses given to new members who join Spirit of Hope shown in this photo, as well as baptismal boxes given as a beautiful gift, at our baptisms.
Others who have been engaged in these projects, or who may like to join this group, are always welcome. Dave's garage is equipped with all the power tools need to complete almost any project together.
If any member, winter visitor, man or woman is interested in woodworking, please contact Dave at 480-219-9343. No experience is required.